About Samantha
Samantha Skelly is a 7-figure entrepreneur, sought after international speaker, best-selling author, and wellness coaching expert. As a leading authority on disordered eating and body image issues, Samantha has made it her life's mission to empower women to overcome their struggles with food and body so they can live happy, authentic, and fulfilling lives.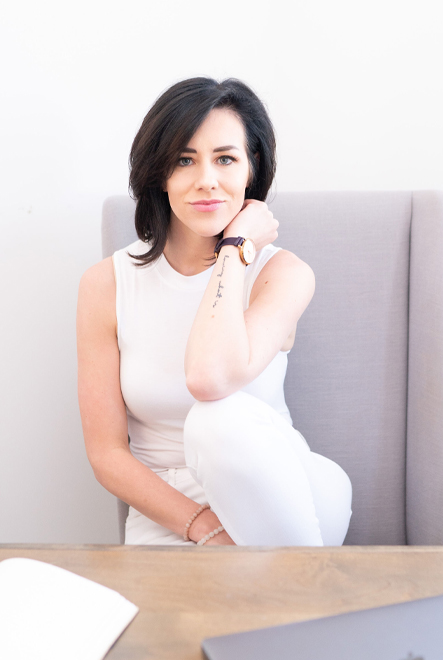 Samantha's mission was realized in 2014, when she founded Hungry for Happiness, a movement that helps people experience true transformation and happiness through trained certified coaches who utilize emotional and energetic coaching techniques. Hungry for Happiness has provided unique and accessible recovery resources to those suffering in silence. In 2018, Samantha launched her second company, Pause Breathwork, with a mission to unite humanity by helping people breathe, feel, and thrive.
Through her companies, Samantha has revolutionized the weight loss and self-help industries by providing sustainable solutions that challenge the "Band-Aids on bullet wounds" methodology that has long been the industry standard. She works with clients to examine the individual and underlying causes of food, body, and self-love issues, and in doing so, has transformed the lives of tens of thousands of women in over 30 countries around the world by helping them conquer their struggles once and for all.
Hay House author of the soon to be released Hungry For Happiness, and host of the popular Hungry for Happiness podcast, Samantha continues to spread her message and inspire thousands of people through her programs, worldwide international retreats, and motivational speaking engagements. Samantha has shared her mission on an international platform, with appearances on Global TV, Shaw, NBC, CBC, and BBC. She's been featured in various publications, such as Forbes, The Huffington Post, The Elephant Journal, and The Prevail Project, and she's also a monthly contributor on Recovery.org, one of the most well known addiction and recovery resources.
A native of Vancouver, British Columbia, Samantha currently resides in San Diego, California. Through The Phoenix Foundation, the philanthropic branch of her company, Samantha supports efforts to fight human trafficking and help rescue and reintegrate trafficking victims in Cambodia and North America. She's also a board member for Project True, a Vancouver nonprofit that provides support and resources to those suffering from disordered eating and body image issues. When she's not challenging the weight loss and self-help industries or transforming lives, Samantha can usually be found indulging in tacos, playing on slip and slides, or dancing.